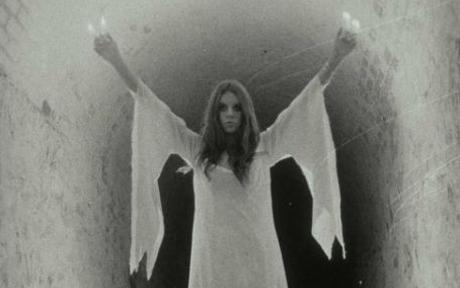 In popular medieval legend, a White Lady is fabled to appear by day as well as by night in a house in which a family member is soon to die. According to The Nuttall Encyclopaedia, these spirits were regarded as the ghosts of deceased ancestresses.

Castle Huntly, Scotland, is said to be haunted by a young woman dressed in flowing white robes. There are various stories concerning her history, one of which is that she was a daughter of the Lyon family who occupied the castle in the 17th century. When her affair with a manservant was discovered she was banished to a tower on the battlements. Unable to endure her suffering, she threw herself to her death from the tower. The ghost of the White Lady has been seen a number of times over the years, often on the grounds surrounding the castle. She has also been seen in the room in which she was imprisoned.

Darwen is reportedly haunted by a ghost. In Darwen's old cemetery there is a gravestone of a supposed white lady, whose eyes open when they are touched. There have been reported sightings of her ghost walking around the area at night, seeking her child. The white lady of Darwen is said to have died during childbirth, or to have been raped and murdered by a group of men who stole her child. She is said to manifest in response to the spoken phrase "White lady, white lady, I stole your black baby", before attacking the speaker and causing them to faint. Local folklore says that the white lady of Darwen killed a group of teenagers who were on a camping trip in the White Hall Park in the late 1980s, within two hours of them visiting her grave.

The White Lady of Willow Park is native to a small, heavily-wooded park of Newton-le-Willows, Merseyside, in northwest England. She is thought to be the tormented spirit of a bride who was drowned in the lake by her husband on their wedding night. Variations on her method of death include being bricked up in a cave and hanging herself in the kitchen.
Urban Legends of White Lady Ghost