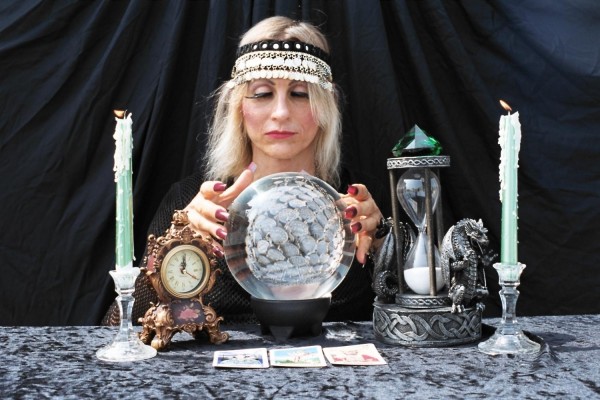 Scrying (also called seeing or peeping) is a magic practice that involves seeing things psychically in a medium, usually for purposes of obtaining spiritual

visions

and less often for purposes of divination or fortune-telling. The most common media used are reflective, translucent, or luminescent substances such as crystals, stones, glass, mirrors, water, fire, or smoke. Scrying has been used in many cultures as a means of

divining

the past, present, or future. Depending on the culture and practice, the visions that come when one stares into the media are thought to come from God, spirits, the psychic mind, the devil, or the subconscious.

Although scrying is most commonly done with a

crystal ball

, it may also be performed using any smooth surface, such as a bowl of liquid, a pond, or a crystal.

Scrying is actively used by many cultures and belief systems and is not limited to one tradition or ideology. As of 2009[update], Ganzfeld experiments, a sensory deprivation experiment inspired by scrying, provides the best known experimental setting for detecting psi abilities in

the laboratory

. Like other aspects of divination and parapsychology, scrying is not supported by mainstream science as a method of predicting

the future

or otherwise seeing events that are not physically observable.

Method

The visions that scryers say they see may come from variations in the medium. If the medium is water (hydromancy), then the visions may come from the color, ebb and flow, or ripples produced by pebbles dropped in a pool. If the medium is a crystal ball, the visions may come from the tiny inclusions, web-like faults, or the cloudy glow within the ball under low light (e.g., candlelight).

One method of scrying using a crystal ball involves a self-induced trance. Initially, the medium serves as a focus for the attention, removing unwanted thoughts from the mind in the same way as a mantra. Once this stage is achieved, the scryer begins a free association with the perceived images suggested. The technique of deliberately looking for and declaring these initial images aloud, however trivial or irrelevant they may seem to the conscious mind, is done with the intent of deepening the trance state, in this trance the scryer hears his own disassociated voice affirming what is seen within the concentrated state in a kind of feedback loop. This

process

culminates in the achievement of a final and desired end stage in which rich visual images and dramatic stories seem to be projected within the medium itself, or directly within the mind's eye of the scryer, something like an inner movie. This process reputedly allows the scryer to "see" relevant events or images within the chosen medium.

One of the most famous scryers in history, lived in the 16th century and was known as Nostradamus. He used a bowl of water or a "magic mirror" to "see" the future in it, while he was in trance.
Mysteries of Scrying