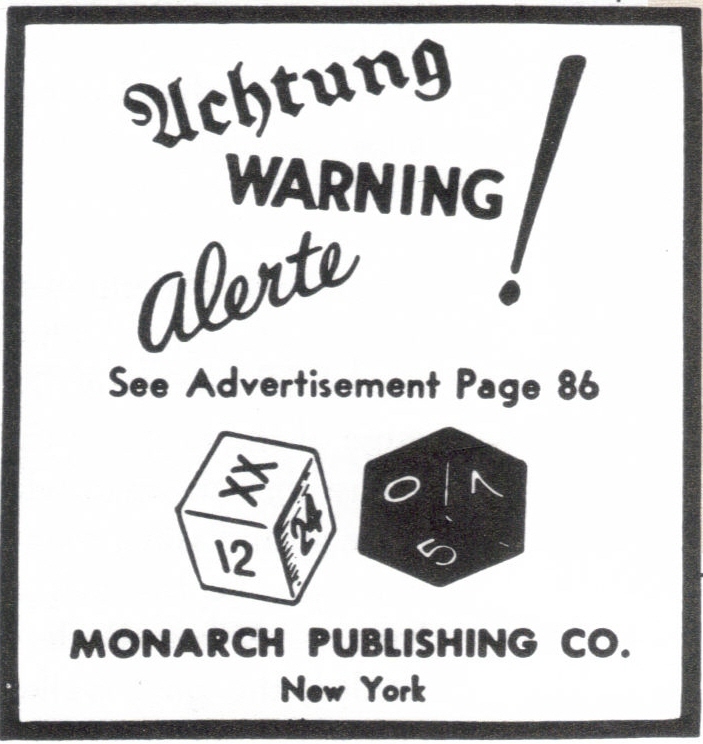 A few weeks before the Pearl Harbor attack, a pair of strange ads appeared in the New Yorker. They seemed to be advertising a dice game called The Deadly Double. One of the ads showed a pair of dice with the characters 0, 5, 7, xx, 24, and 12 on the visible faces. Above were warnings in a variety of languages: "Achtung! Warning! Alerte!" The other ad showed people in a bunker and explained that the dice game was essential air raid survival gear. The company logo was a suspiciously Germanic looking double eagle.

The ads have a somewhat strange design, but only in retrospect did they appear to contain a coded message. The numbers could allude to the date of the Pearl Harbor attack (12/7), with the other numbers representing codes to be deciphered by sleeper agents in the U.S. The Deadly Double itself was thought to refer to the twin threats of Germany and Japan.

Like many mysteries, retellings of this story emphasize the unknown and leave out crucial facts. The 0 and 5 are sometimes thought to foretell the exact time of the attack, but the first aircraft opened fire on Pearl Harbor at 7:48 a.m. local time. Books on mysterious events like to leave this story unresolved, as though the identity of the ads' creator remains unknown to this day. In truth, it was traced to a game company in Chicago that made a dice game called the Deadly Double. Their war-themed ad might seem like poor taste today, but the numbers on the dice matching the date of Pearl harbor was pure coincidence. Still, it was weird enough that the FBI got involved.
No sooner had the Japanese bombed Pearl Harbor, Hawaii on December 7, 1941, that the home front became obsessed that lurking in the shadows was a Japanese traitor or Nazi spy, saboteur, or subversive hiding behind every bush, gathering all of the United States' valuable information.

As a result of the attack on Pearl Harbor, the nation was on high alert for spies, especially "suspicious looking Orientals." Many law enforcement officials took matters into their own hands. At a major naval base in Norfolk, Virginia, the chief of police located all Japanese aliens living in his city and ordered them jailed – all fourteen of them. In Newark, New Jersey, police officers' were given the authority to board trains and arrest all suspicious looking Orientals and to use their own judgement when determining if an individual of Oriental origin "looked suspicious" or not. Other state's followed, singling out many individuals as "suspicious looking Orientals."
Creepy Coincidence of the Deadly Double - Pearl Harbor advance-knowledge Conspiracy Theory