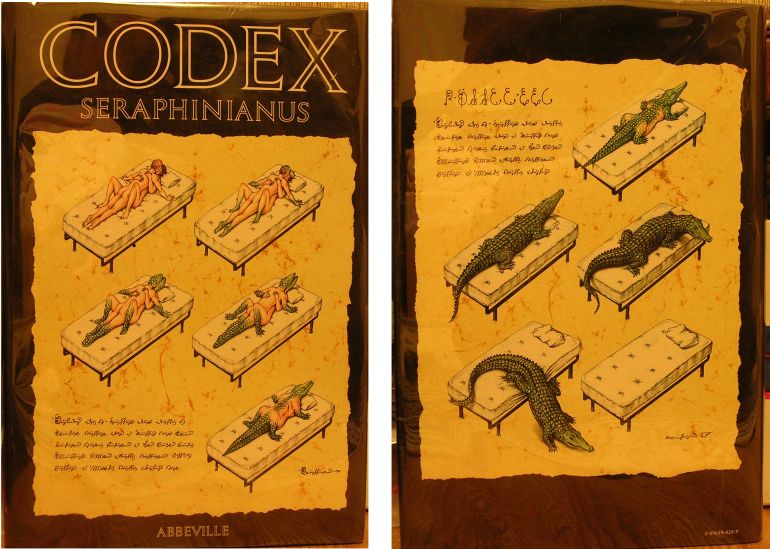 Some people think it's one of the weirdest books ever published. An art book unlike any other art book. A unique and disturbing surreal parody. Grotesque and beautiful. It's very hard to describe. Codex Seraphinianus by Italian artist Luigi Serafini is a window on a bizarre fantasy world complete with its own unique (unreadable) alphabet and numerous illustrations that borrow from the modern age but veer into the extremely unusual.

Codex Seraphinianus, originally published in 1981, is an illustrated encyclopedia of an imaginary world, created by the Italian artist, architect and industrial designer Luigi Serafini during thirty months, from 1976 to 1978. The book is approximately 360 pages long (depending on edition), and written in a strange, generally unintelligible alphabet. Originally published in Italy, the book has since been released in a number of different countries.

The word "Codex" in the title means "book" or "code" (from Latin caudex), and "Seraphinianus" is derived from the author's last name, Serafini (which in Italian, refers to the seraphs). Literally, Codex Seraphinianus means Serafini's code. It was first published in two volumes by Franco Maria Ricci in 1981. The pictures in this AbeBooks article are from the 1983 American edition published by Abbeville - 370 pages of the Twilight Zone. There is also a 1993 single volume edition and a revised 2006 Italian edition with new illustrations - this final edition is the most affordable version.

Created in the late 1970s, the book's blurb on the cover flap talks about Codex Seraphinianus being a book for the "age of information" where coding and de-coding messages is increasingly important in genetics, computer science and literary criticism. "The Codex presents the creative vision of this time..." goes on the blurb. If Serafini was so influenced by "information" in the 1970s to create this maverick art book, then what must he make of today's information age? Codex Seraphinianus Covers featuring Facebook, Twitter, blogs and Google? Countless websites and blogs can be found pondering the meaning of Codex Seraphinianus or simply admiring a truly original piece of art/fantasy/imagination - call it what you will.
Codex Seraphinianus - The World's Weirdest Book