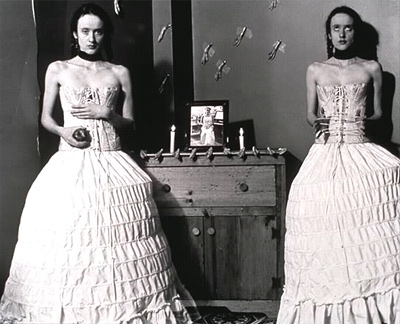 In fiction and folklore, a doppelgänger (German "double walker") is a paranormal double of a

living person

, typically representing evil or misfortune. In the vernacular, the word has come to refer to any double or look-alike of a person.

The word also is used to describe the sensation of having glimpsed oneself in peripheral

vision

, in a position where there is no chance that it could have been a reflection. Doppelgängers often are perceived as a sinister form of bilocation and are regarded by some to be harbingers of bad luck. In some traditions, a doppelgänger seen by a person's friends or relatives portends illness or danger, while seeing one's own doppelgänger is an omen of death.

In Norse mythology, a vardøger is a ghostly double who precedes a living person and is seen performing their actions in advance. In Finnish mythology, this is called having an etiäinen, i.e., "a firstcomer". In Ancient

Egyptian

mythology, a ka was a tangible "spirit double" having the same memories and feeling as

the original

person. In one Egyptian myth titled "The Greek Princess," an Egyptian view of

the Trojan War

, a ka of Helen was used to mislead Paris of Troy, helping to stop the war. In some myths, the doppelgänger is a version of the Ankou, a personification of death.



Scientific and philosophical investigations

Left temporoparietal junction

In September 2006, it was reported in Nature[2] that Shahar Arzy and colleagues of the University Hospital, Geneva, Switzerland, unexpectedly had reproduced an effect strongly reminiscent of the doppelgänger phenomenon via the electromagnetic stimulation of a patient's brain. They applied focal electrical stimulation to a patient's left temporoparietal junction while she lay flat on a bed. The patient immediately felt the presence of another person in her "extrapersonal space." Other than epilepsy, for which the patient was being treated, she was psychologically fit.

The other person was described as young, of indeterminate sex, silent, motionless, and with a body

posture

identical to her own. The other person was located exactly behind her, almost touching and therefore within the bed on which the patient was lying.

A second electrical stimulation was applied with slightly more intensity, while the patient was sitting up with her arms folded. This time the patient felt the presence of a "man" who had his arms wrapped around her. She described the sensation as highly unpleasant and electrical stimulation was stopped.
Doppelgänger Phenomenon