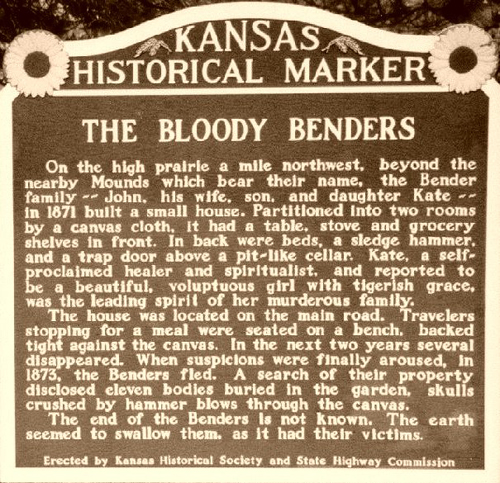 The Bloody Benders were a family of serial killers who owned an inn and small general store in Labette County of southeastern Kansas from 1871 to 1873. The family consisted of John Bender, his wife Mrs. Bender (later referred to as Kate, Sr., since no one knew her given name), son John, Jr., and daughter Kate. While Bender mythology holds that John and Kate were brother and sister, contemporary newspapers reported that several of the Benders' neighbors have stated that they claimed to be married, possibly a common law marriage.

They are believed to have killed about a dozen travelers before their crimes were discovered and the family fled, with their fate uncertain. Much folklore and legend surrounds the Benders, making it difficult to separate fact from fiction.

Background

Following the American Civil War, the United States government moved the Osage Indians from Labette County, Kansas to a new Indian Territory located in what would eventually be Oklahoma. The newly-vacant land was then made available to homesteaders. In October 1870, five families of spiritualists settled in and around Osage township of western Labette County, approximately 7 mi (11 km) northeast of where Cherryvale would be established seven months later. One of the families was John Bender Sr. and John Bender Jr. who registered 160 acres (65 ha) of land located adjacent the Great Osage Trail, which was then the only open road for traveling further west. After building a cabin, a barn with corral and a well, in the fall of 1871, Kate (Ma) Bender and her daughter Kate arrived and the cabin was divided into two rooms by a canvas wagon-cover. The Benders used the smaller room at the rear for living quarters, while the front room was converted into a "general store" where a few dry goods were sold. The front section also contained their kitchen and dining table, where travelers could stop for a meal or even spend the night. Ma and Kate Bender also planted a 2 acres (0.81 ha) vegetable garden and apple tree orchard north of the cabin. Bender family

John (Pa) Bender Sr. was around sixty years old and spoke very little English. When he did speak it, it was so guttural that it was usually unintelligible. Ma Bender, who also allegedly spoke very little English, was 55 years of age and was so unfriendly that her neighbors took to calling her a "she-devil". John Bender Jr. was around 25 years old, handsome with auburn hair and mustache and spoke English fluently, but with a German accent. John was prone to laughing aimlessly, which led many to consider him a "half-wit". Kate Bender, who was around 23, was cultivated and attractive and she spoke English well with very little accent. A self-proclaimed healer and psychic, she distributed flyers advertising her supernatural powers and her ability to cure illnesses. She also conducted séances and gave lectures on spiritualism, for which she gained notoriety for advocating free love. Kate's popularity became a large attraction for the Benders' inn. Although the elder Benders kept to themselves, Kate and her brother regularly attended Sunday school in nearby Harmony Grove. The Benders' inn was a simple one room house divided into living quarters and the kitchen and store area.
The Bloody Benders: Horror in the Old West