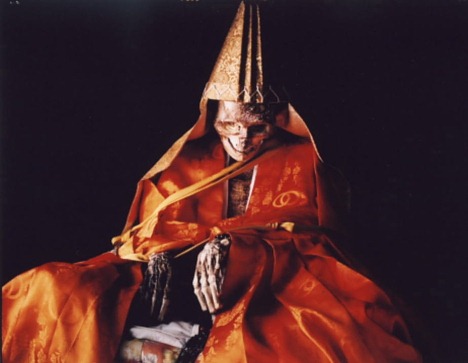 Scattered throughout Northern Japan around the Yamagata Prefecture are two dozen mummified Japanese monks known as Sokushinbutsu, who caused their own deaths in a way that resulted in their mummification. The practice was first pioneered by a priest named Kuukai over 1000 years ago at the temple complex of Mount Koya, in Wakayama prefecture. Estimates of the number of self-mummified priests in Japan range between sixteen and twenty-four priests. Impressive though this number is, many more have tried to self-mummify themselves; In fact, the practice of self-mummification -- which is a form of suicide, after all -- had to be outlawed towards the end of the 19th century to prevent Buddhist priests from offing themselves this way. and yet the grand majority of priests who have tried to do this have failed. The reasons will take some explaining -- but first, some background on the whole practice and the reasons for it.

Sokushinbutsu refers to a practice of Buddhist monks observing austerity to the point of death and mummification. This process of self-mummification was mainly practised in Yamagata in Northern Japan between the 11th and 19th century, by members of the Japanese Vajrayana school of Buddhism called Shingon ("True Word"). The practitioners of sokushinbutsu did not view this practice as an act of suicide, but rather as a form of further enlightenment. Those who succeeded were revered, while those who failed were nevertheless respected for the effort.

It is believed that many hundreds of monks tried, but only 24 such mummifications have been discovered to date. There is a common suggestion that Shingon school founder Kukai brought this practice from Tang China as part of secret tantric practices he learned, and that were later lost in China. Today, the practice is not advocated or practiced by any Buddhist sect, and is banned in Japan. The practice was satirized in the story "The Destiny That Spanned Two Lifetimes" by Ueda Akinari, in which such a monk was found centuries later and resuscitated.
Sokushinbutsu - The Bizarre Practice of Self Mummification