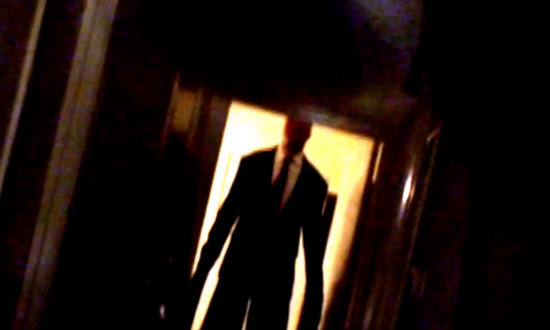 There are legends and myths that have been around for centuries and have seared themselves into our minds and culture. Then there are those that have been brought to life by way of modern technologies reminding us of nightmares that should have been buried and forgotten. One such legend is known through internet popularity as Slender man.

The creature known as Slender man is said to have the appearance of a tall, lanky man in a black suit. Not so scary, right? Just wait.

He towers at six to seven feet with unusually thin limbs. His face, if you can call it that, is featureless and white, though some say that it can morph into whatever you fear the most. His arms, however, can stretch out to grab his victims and bend in unnatural ways with long, talon-like fingers used to scratch at the windows of children. Yes that's right. While he haunts everyone who has the misfortune to see him, he prefers to devour those that are 16 and younger. He is also said to have multiple arms sometimes seen as long tentacles used to ensnare whomever catches his eye, or should I say, the void where his face should be.

Slender man is a silent stalker that likes to hide in plain sight and is usually spotted in wooded areas where he could blend in amongst the trees and dark corners of the forest. When he finds his victim of

choice

, he follows them home and upon being seen through the window, can use a form of hypnosis that compels you to walk right into his spindly arms. Usually glimpsed at a distance, once he's close enough to get a

good look

at, that's when he slinks into your home appearing in dark hallways or blank t.v. screens. American legend says that he was once a man who was tortured viciously, first being beaten with a log, then impaled with a 2 foot stick and hung from a tree with his arms and legs pulled from their sockets.

When captured, you will wake to find Slender man standing above you. He will ask one question and if you're lucky and get it right, he

breaks

both your arms and legs. But if you are wrong, then he slowly sticks his fingers down your throat pulling out the heart. In circles on the internet Slender man is claimed to be the creation of a website called Somethingawful.com. Many say that this alone debunks the mysterious legend and closes the case on the creature's fictitious existence. Well, not quite.

It appears that the Slender man myth goes back a lot farther than is claimed. He is based on something called Der Grossman, meaning "tall man", which is the Germanic version. Legend says that children would

site

him in the Black Forest days before their disappearance. All that was left behind would be the mutilated remains of livestock and in a few cases, village inhabitants would be found several miles from their homes impaled on the higher branches of the trees.
http://theunexplainedmysteries.com/SlenderMan-Legends.html