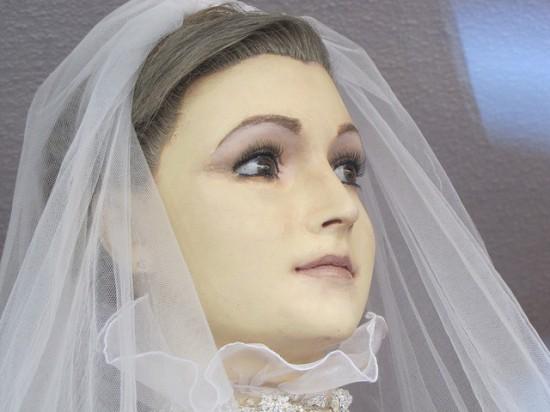 La Pascualita or Little Pascuala is a bridal mannequin that has "lived" in a store window in Chihuahua, Mexico for the past 75 years. That is quite a long time for a bridal gown shop to retain a mannequin, but then the dummy has a rather strange history behind it. According to an urban legend, La Pascualita isn't a dummy at all, but the perfectly preserved corpse of the previous owner's daughter.

Peering through the glass at a mannequin's veined hands, sparkling eyes and eerie smile, the small crowd gathered outside a store in northern Mexico tries to settle a macabre riddle beguiling many.Is the tall, slender bridal figure in the window a richly detailed shop's dummy or, as a local legend says, the decades-old embalmed corpse of the former store owner's daughter?.

The haunting figure known as 'La Pascualita,' or 'Little Pascuala' first appeared 75 years ago in the window of the bridal gown store in the city of Chihuahua.Since then, the striking realism of the dummy has spawned supernatural tales and reports of a miracle, and even inspired a foot-stomping accordion ballad played on local radio.

The figure has drawn a stream of people from across the desert state of Chihuahua over the past eight decades, and is now attracting curious visitors from South America, the United States and Europe, the owners of the La Popular store say.As cars and trucks rumble by the shop on a busy city street, the entranced visitors smudge their noses up against the store window and try to decide for themselves if it's a corpse.

"She looks good for all the years that she's been here," Yolanda Robles, who trekked to the shop out of curiosity from Phoenix, Arizona, said as she studied the rosary-clutching figurine."There are just so many details, like her hair and the nails on her hand, that it just has to be true," she added.
La Pascualita – The Mexican Corpse Bride