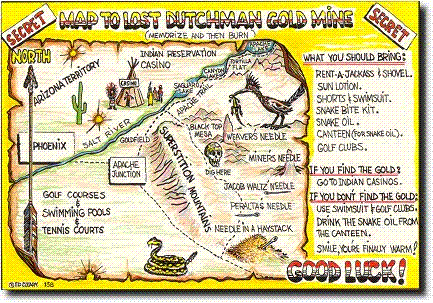 The Lost Dutchman Gold Mine (also known by many similar names) is, according to legend, a very rich gold mine hidden in the southwestern United States. The location is generally believed to be in the Superstition Mountains, near Apache Junction, east of Phoenix, Arizona. There are also theories that the mine lies a considerable distance beyond the Superstition Mountains, in Mexico. There have been many opinions about how to find it, and each year people search for it. Some have died on the search.

The mine is named for German immigrant Jacob Waltz, who purportedly discovered it in the 19th century and kept its location a secret. ("Dutchman" was a common, though inaccurate, American slang term for "German," derived from the German word for "German" – "Deutsch").

The Superstition Mountains to the east of Phoenix, AZ reportedly hold a legendary motherlode of gold known as the Lost Dutchman Gold Mine. Truth and fiction about this mine have been unrevokably mixed up through the years, producing 62 varieties of the legend. But before we get into those, here are some genuine facts about the Lost Dutchman Gold Mine:

There really was a Lost Dutchman, although he wasn't Dutch. Jakob Waltz was nicknamed Dutch (i.e. from the Netherlands) because he was Deutsch (i.e. from Germany; a common error, see also 'Pennsylvania Dutch'). A man of that name was born in Württemberg in 1810 and emigrated to the US. From the 1860s onward, he homesteaded in Arizona, pursuing mining and prospecting as a hobby – a quite unsuccessful one. Waltz fell ill and died in 1891, but not before revealing the location of an alleged gold mine to Julia Thomas, the neighbour who cared for him. As early as Sept 1, 1892, a local newspaper relates how Thomas and others were trying to locate the mine. When they failed, it is reported they sold copies of a map for $7 each. After about a decade, the story sank into obscurity, regaining notoriety when it had acquired more spectacular aspects, in a fashion not dissimular to a game of Chinese whispers.
The Lost Dutchman Gold Mine