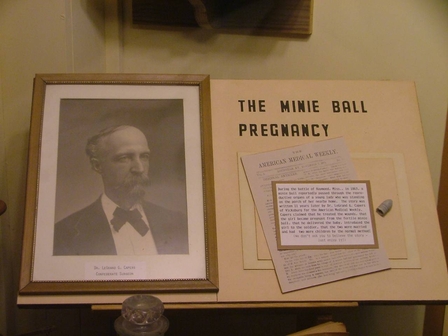 In November 1874 an unusual article appeared in the introductory volume of The American Medical Weekly, a Louisville medical journal. It was written by Dr. LeGrand G. Capers and was titled, "Attention Gynaecologists!—Notes from the Diary of a Field and Hospital Surgeon, C.S.A." In the article Dr. Capers recounted an unusual case of artificial insemination he had witnessed on a Civil War battlefield in Mississippi, in which a bullet had passed through a soldier's testicles, and then traveled on before hitting a woman and impregnating her. The event was said to have occurred on May 12, 1863 at around 3 p.m. at the "battle of R." (battle of Raymond), where "Gen. G's brigade" (Brigadier General John Gregg) of the Confederate forces fought Grant's army led by "Gen. L." (Major General John A. Logan).





In 1874, The American Medical Weekly ran an article by a Dr. LeGrand Capers (that's him in the picture) who claimed he witnessed this very thing on a Civil War battlefield. Apparently there was a house very close to the Confederate lines, and a bullet (a "minnie ball") hit a soldier, "carrying away the left testicle", and then continued its course toward the house. One of the daughters in the house had also been hit by a stray bullet, which was lost in the abdominal cavity somewhere. Because the doctor was stationed with the army nearby, he continued to check on the wounded girl over the next several months. Around the six-month mark, he discovered that the girl was pregnant. Around the nine-month mark, she gave birth to a nine-pound baby boy.

The family was beyond embarrassed that their unmarried daughter was apparently having "indiscretions", but the girl swore that she was a virgin. The doctor examined her and said it was true - she had never had sex. Meanwhile, the little boy was very sick and he had some incredible swelling in the groin area. The doctor decided to operate, and when he did, he pulled out a minnie ball. He put two and two together and figured out that the bullet must have picked up some semen went it ripped through the soldier's testicle, and managed to impregnate the girl when it lodged inside of her stomach. Supposedly, the girl and the soldier ended up getting married and having two more kids. The problem? The doctor had invented the whole story in order to mock the ridiculous stories that were coming out of the battlefield. But it was taken as fact, and was even reprinted in 1959 in the New York State Journal of Medicine.
Son of a gun : Case of the Miraculous Bullet