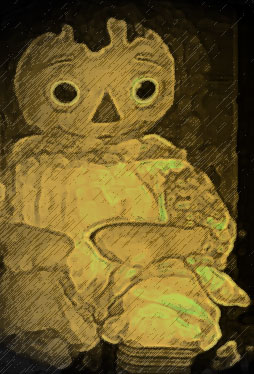 This is a terrifying case of a

raggedy Ann

doll named Annabelle. The case is from the 1970's and is highlighted in the book The Demonologist. This is one of the Warrens most asked about cases. The referral came from an Episcopal priest. A somber toned clergyman told Ed Warren of two young nurses who had communicated with what they thought to be a human spirit. One of the girls' friends had been attacked physically, and the activity was still in progress, so Ed accepted the case. With that the priest gave Ed the phone number of the girls. Ed immediately called the number and upon reaching one of the girls, Ed verified the existence of the problem and told the young women that he and Lorraine were on their way.

Today, AnnaBelle remains locked in a glass case, and is on display at the Warren Occult museum. The only one of it's kind, the museum

houses

haunted artifacts and objects collected from over 50 years of

paranormal investigations

. It is still reported that while very week, AnnaBelle still manages to turn up in the strangest of places.
Annabelle: The Haunted Doll

In the 1970's a mother strolling along the street walked into a hobby store, and purchased a large Raggedy-Anne doll as

a present for her

daughter's birthday. Thus begins one of the most unusual cases of a possessed object on record. Annabelle's antics were so bad, she is now locked inside a protective glass case in an occult museum to keep her at bay.

This incident is a terrifying case investigated by famed

paranormal investigators

Ed and Lorraine Warren in the 1970's. A priest had contacted Ed, and told him of two young nurses who were experiencing terrifying phenomenon in their home. Strange things were occurring to the point that they had contacted the church for help. The church referred the case to the Warrens, who immediately began investigating.
ANNABELLE - The Haunted Doll