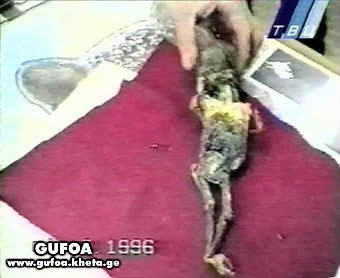 Mysterious dwarfish alien brutally murdered in Russia's remote village

Researchers looking into the case of "Alionshenka the Alien" have arrived at a sensational conclusion: the mysterious creature did not catch his death of cold as previously thought. They believe the supposed alien was killed.

"He didn't die from natural causes," said Vadim Chernobrov, a coordinator with the public research center Kosmopoisk. "We found out that his skull had been fractured," Chernobrov added.

The mysterious dwarf was found near the town of Kyshtym of the Chelyabinsk region. Stanislav Samoshkin is a morbid anatomist who performed autopsy on the body of the dwarf in a local hospital. He was the first to claim that the creature was a non-human being.

"The human skull consists of six bones. The skull of that creature was made up of four bones," Samoshkin said.

Russian and foreign researchers have been trying to unravel the mystery of the "Uralian alien" for eleven years. The story looks like a detective novel in progress. The body of the dwarf was reportedly stolen. The key witness to the case, an old woman who actually named the dwarf "Alioshenka", died a sudden death.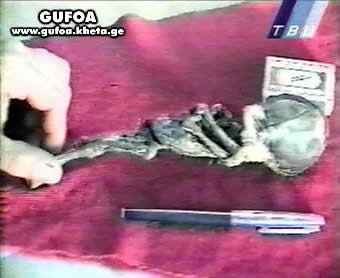 Researchers believe that Tamara's account is a true story. She has been repeating it word by word for years without adding up any new details.

"He was giving off that smell, you know, one of a kind. You can't take it for any other smell. Actually, the smell was pretty agreeable yet somewhat nauseous at the same time. And he didn't pass any liquid or solid waste matter. He was sweating, and that was all. I saw the mother-in-law wipe the sweat off his face with a rag," Tamara added.

The old woman died in a hit-and-run accident in August 1999. She was knocked down by a car just a few days before a team of researchers arrived in the town from Moscow. Researchers phoned her relatives shortly before the accident occured. Academician Mark Milkhiker was going to put Prosvirina in a state of hypnosis, a method used for helping the patient recover information buried in his subconscious.

Prosvirina's relatives are confident that the death of the old woman was not an accident.

"You can hardly see a vehicle crossing this town during the day. Where the hell did that car come from?" Tamara asked.
Read more at Alionshenka-the-Alien - Russian 'Kyshtym' Alien