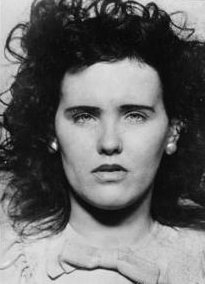 She was known as the "Black Dahlia". She had jet black hair and preferred black dresses and lingerie. Those who knew her best said she had a tattoo of an exotic flower on her inner thigh. She wanted desperately to be a Hollywood actress, but her fame would not come from the movies. It would come from her death, a murder which has gone unsolved for 60 years.

Elizabeth Short(July 29, 1924 – ca. January 15, 1947) was an American woman and the victim of a gruesome and much-publicized murder. She acquired the moniker The Black Dahlia posthumously by newspapers in the habit of nicknaming crimes they found particularly colorful. Short was found mutilated, her body severed at the waist, on January 15, 1947, in Leimert Park, Los Angeles, California. Short's unsolved murder has been the source of widespread speculation along with several books and film adaptations.

On a cold morning in January 1947, the nude, mutilated body of 22-year-old Elizabeth Short was discovered in a vacant lot in the Leimert Park area of Los Angeles. What made the murder so unique was the barbaric nature of the crime. The Black Dahlia's body had been neatly severed in half, gutted and drained of blood. Author Lawrence P. Scherb put the unusual crime into perspective:

"Her face had been very brutally cut from ear to ear in a grin. Her throat had been cut and she had been mutilated sexually. Basically, she was the worst case of a sex crime in the history of Los Angeles County."

The case of The Black Dahlia has fascinated crime writers for generations, and almost every one of them has a different theory about the killer. Lawrence Scherb has studied the Black Dahlia case extensively. Now, he believes he knows the identity of the man who so brutally murdered Elizabeth Short.
Elizabeth Short's life was as sad as it was brief. Like so many other young women, Elizabeth had been lured to Hollywood with dreams of becoming a star. Her career was going nowhere and she was running out of cash. According to some, she eventually drifted into prostitution.

In her final days, Elizabeth seemed to be constantly on the move. According to Lawrence Scherb, she was last seen leaving a diner in San Diego with a man who has never been positively identified:

"She called him Red when she spoke to him in the diner and he did have reddish colored hair. However, the police were never able to positively identify him, although some people felt that he might have been Robert Manley."
Read more at Black Dahlia Murder Mystery