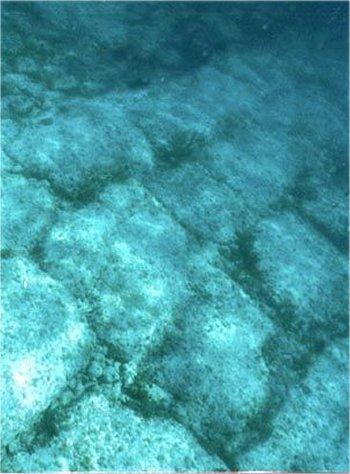 Bimini is an island in the Bahamas, 55 miles east of Miami, Florida, approximately 7 miles long and 1/3 mile across at its widest point. Its modern inhabitants are descendants of West African slaves imported by Spain and Britain beginning in the mid-16th century. They replaced the resident Caribs, who arrived only a few generations before and after whom the Caribbean Sea was named. Bellicose cannibals from Middle America's mainland, the Caribs feasted on the island's earliest known inhabitants, the Lucayans, a linguistic branch of Arawak Indians. Before their extermination (consumption?), the Lucayans were described by Spanish explorers as able craftsmen (surviving Lucayan celts and hammer-stones attest to their refined skills), with noticeably lighter complexions and auburn hair, even occasional blue eyes. These untypical traits may have been genetic traces of contacts with pre-Columbian visitors from Europe, or even racial evidence for an Atlantis pedigree, in view of the following information. The origin and meaning of "Bimini" are unknown. However, the name appears in the Ancient Egyptian language as Baminini, which means, "Homage (ini) to the Soul (ba) of Min." Min was the Egyptians' divine protector of travelers on far-off journeys, a particularly appropriate god to be worshiped at distant Bimini, if indeed the island had been visited by voyagers from the Nile Valley.

Material evidence for an Egyptian or, at any rate, an Egyptian-like presence in the western Atlantic appeared during the late 1930s, when James Lockwood, Jr., an American archaeologist in Haiti, saw a stone statue of the ancient Egyptian god of the dead, Anubis, that had been discovered on an off-shore island. The Lucayans knew Bimini as "Guanahani," another curious connection with the Ancient World, because the name translates as "the Island (hani) of Men (guana)" in the language of the Guanches. These were native inhabitants of the Canary Islands, off the northwest coast of North Africa, until their utter demise at the hands of the Spanish in the 15th and 16th centuries.

Although no monumental buildings were found on Bimini, in Arawak, Guanahani meant "the Place of the Encircling Walls"; in Arawak, hani was also synonymous for "crown" or "wreath." This oldest known name for the island may have referred to a large stone formation lying in 19 feet of water less than 2 miles off Bimini's northernmost point. It is composed of so far unnumbered but certainly no less than 5,000, mostly square-cut blocks running in a straight line for about 1,900 feet, before swinging back on itself to create a J-formation. To early observers, it resembled a paved road running across the bottom of the sea. But the general consensus of investigators since then tentatively identifies the structure as a cyclopean wall, not unlike Andean examples found in Peru, specifically, at Cuzco and Sacsahuaman.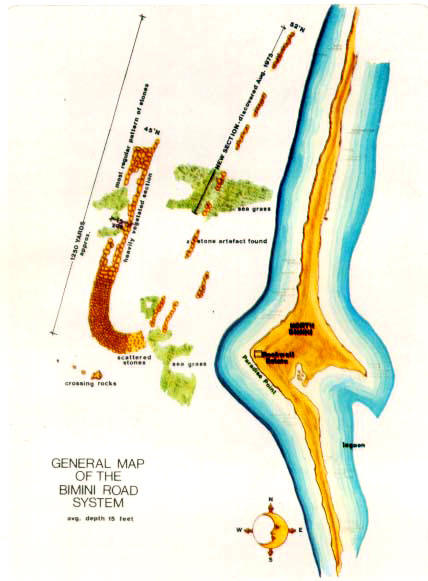 Unfortunately, it continues to be known by its first and misleading appellation. In 1933, Edgar Cayce, during one of his trance states, said that records from Atlantis still existed "where a portion of the temples may yet be discovered, under the slime of ages of sea water—near what is known as Bimini." The little island was not Atlantis itself, he explained, but its outpost, known many thousands of years ago as Alta, extending (politically) to east-coastal Florida, and part of a wider Atlantean administration known as Poseidia, comprising the Lesser Antilles. In 1940, the "Sleeping Prophet" predicted, "Poseidia will be among the first portion of Atlantis to rise again. Expect it in '68 and '69; not so far away!" The so-called "Bimini Road" was, in fact, "discovered" in 1968 by maverick archaeologist Mason Valentine, while looking for Atlantean remains around the island in hopes of confirming Cayce's prophesy. .
Read more at Unsolved Mysteries of World