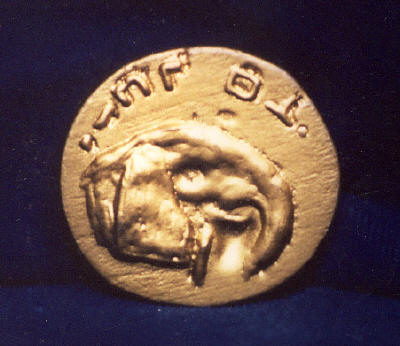 Juba II was the monarch of a North African kingdom known as Mauretania, comprising most of modern Morocco and western Algeria. After Emperor Caligula murdered his son in A.D. 39, the Romans invaded Mauretania to seize his golden fortune. But they never found it. Nearly 2,000 years later, a buried treasure surrounded by Roman-era artifacts came to light in the American Midwest. Could this apparently ancient trove have been the lost exchequer of King Juba, concealed nearly fifteen centuries before Columbus landed on America continent?

In the extreme northeast corner of Richland County, in southern Illinois, bends an elbow of the River Embarras, branching from its bigger sister, the Wabash. An infrequently visited site, certainly unknown outside its immediate vicinity, was hardly more than a hole in the ground. But the opening, about ten feet wide and eight feet from ceiling to roof, was large enough for infrequent local visitors to stoop through a kind of natural corridor running about 15 feet into the side of a hill perhaps three-quarters of a mile from the south bank of the Embarras.

On April 2, 1982, a 47-year-old "caver" entered its dark recesses outfitted with flashlight, pick-hammer and knapsack. Nineteen years later, Russell Burrows publicly presented a detailed description of the events of April 2 before an international archaeology conference in the Vienna Art Center, Austria. "The cave itself is 535 feet deep to its terminal breakdown," he said. The down-angle is six degrees. The artifacts which he recovered were located in the silt on the most part. However, some were recovered from niches and shelves along the walls. Also to be seen are lamps cut out of knobs of rock on the walls. There are several of these lamps, since they seem to be positioned every fifteen or twenty feet. The area above these lamps is blackened by smoke from the lamps, which most likely burned animal fat or oil of some kind.


Read more on this hidden treasure at http://theunexplainedmysteries.com/Lost-Treasure-of-King-Juba.html