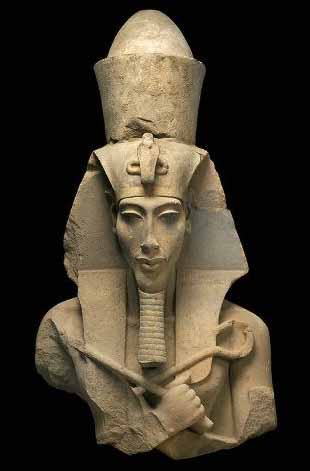 Akhenaten (often alt: Akhnaten, or rarely Ikhnaton) meaning 'Effective spirit of Aten', first known as Amenhotep IV (sometimes read as Amenophis IV and meaning 'Amun is Satisfied') before his first year (died 1336 BC or 1334 BC), was a Pharaoh of the Eighteenth dynasty of Egypt. He is especially noted for attempting to compel the Egyptian population in the monotheistic worship of Aten, although there are doubts as to how successful he was at this.
He was born to Amenhotep III and his Chief Queen Tiye and was their younger son.
Akhenaten was not originally designated as the successor to the throne until the untimely death of his older brother, Thutmose. Amenhotep IV succeeded his father after Amenhotep III's death at the end of his 38-year reign, possibly after a short coregency lasting between either 1 to 2 years. Suggested dates for Akhenaten's reign (subject to the debates surrounding Egyptian chronology) are from 1353 BC-1336 BC or 1351 BC­1334 BC.
Akhenaten's chief wife was Nefertiti, made world-famous by the discovery of her exquisitely moulded and painted bust, now displayed in the Altes Museum of Berlin, and among the most recognised works of art surviving from the ancient world.
Pharaoh Akhenaten was known as the Heretic King. He was the tenth King of the 18th Dynasty. Egyptologists are still tying to figure out what actually happened during his lifetime as much of the truth was buried after he died.
Akhenaten lived at the peak of Egypt's imperial glory. Egypt had never been richer, more powerful, or more secure. Up and down the Nile, workers built hundreds of temples to pay homage to the Gods. They believed that if the Gods were pleased, Egypt would prosper. And so it did.
Read more at http://theunexplainedmysteries.com/akhenaten.html