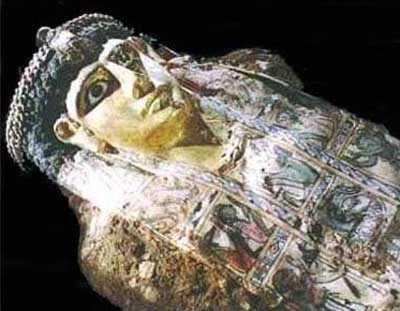 Tombs and Mummies of Bahariya Oasis

The Valley of the Golden Mummies is a huge burial site at Bahariya Oasis in the Western Desert of Egypt, discovered in 1996. Dr. Zahi Hawass, with his Egyptian team, have found around 250 mummies dating to several different periods in history. The site dates to Greco-Roman Egypt, where the ruin of a temple to Alexander the Great can be found. It is believed by some Egyptologists that the Greek conqueror passed through Bahariya while returning from the oracle of Ammon at Siwa Oasis. Excavations of the Greco-Roman necropolis, known as the Valley of the Golden Mummies began in 1996. Approximately thirty-four tombs have been excavated from this area so far. Hawass estimates more than 10,000 will be uncovered.
Set in a depression covering over 2000 sq. km., Bahariya Oasis is surrounded by black hills made up of ferruginous quartzite and dolorite. Most of the villages and cultivated land can be viewed from the top of the 50-meter-high Jebel al-Mi'ysrah, together with the massive dunes which threaten to engulf some of the older settlements. The Oasis was a major agricultural center during the Pharaonic era, and has been famous for its wine as far back as the Middle Kingdom. During the fourth century, the absence of Roman rule and violent tribes in the area caused a decline as some of the oasis was reclaimed by the sand. Wildlife is plentiful, especially birds such as wheatears; crops (which only cover a small percentage of the total area) include dates, olives, apricots, rice and corn.
Over time, the Bahariya Oasis has had a number of different names. It has been called the Northern Oasis, the Little Oasis, Zeszes, Oassis Parva and the especially during the Christian era, the Oasis of al-Bahnasa, along with various other names. At one time, the Bahariya Oasis, as well as most of the rest of what is today referred to as the Western (or Libyan) Desert, was the floor of an immense ocean. Yet from about 3000 BC until the present, almost no rainfall graces this part of the world, so groundwater is its life blood.
Remains of stone tools found in the Bahariya oasis evidence the existence of settlements in the area as early as the Paleolithic Period. In fact, we are told that anyone with a trained eye, walking about the oasis, can spot prehistoric stone knives and and axes simply lying upon the surface of the sand.
Read more at http://theunexplainedmysteries.com/bahariya.html