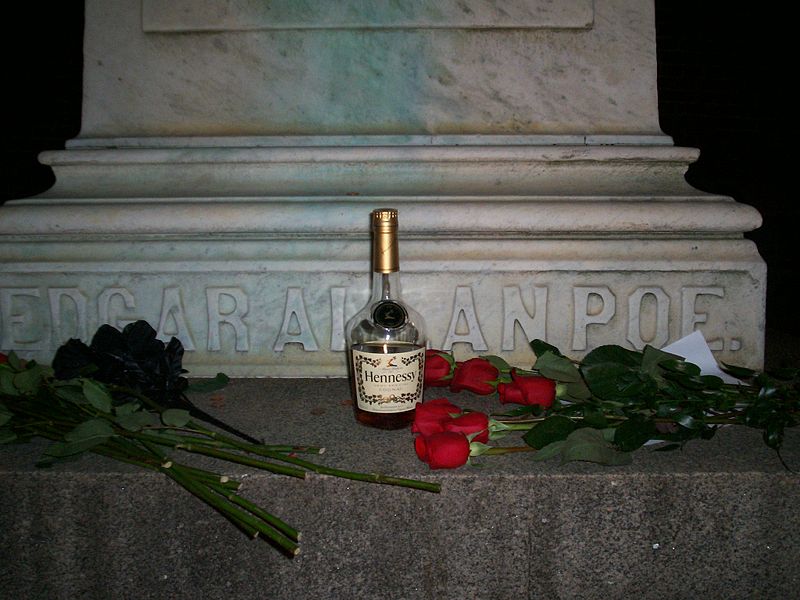 The Poe Toaster is the nickname given to a mysterious man who pays annual tribute to Poe by visiting his grave every year. The strange tradition started in 1949 – a century are after Poe's death, and it occurs every year on the author's birthday (January 19).

According to

Wikipedia: "In the early hours of the morning on that date, a black-clad figure, presumed to be male, with a silver-tipped cane enters the Westminster Hall and Burying Ground in Baltimore, Maryland. The individual proceeds to Poe's grave, where he or she raises a cognac toast. Before departing, the Toaster leaves three red roses and a half-bottle of cognac on the grave."

The Toaster wears a black hat and

coat

and hides his face with a hood or scarf. Groups of reporters and admirers are often on hand

to watch

the event. There have been no attempts to interfere with the Toaster or to unmask him – most likely out of respect for the tradition.

The Poe Toaster is an unofficial nickname given to a mysterious

person

(or more probably two persons in succession, possibly father and son) who, for over seven decades, paid an annual tribute to American author Edgar Allan Poe by visiting the stone marking his original grave in Baltimore, Maryland in the early hours of January 19, Poe's birthday. The shadowy figure, dressed in black with a wide-brimmed hat and white scarf, would pour himself a

glass

of cognac and raise a toast to Poe's memory, then vanish into the night, leaving three roses in a distinctive arrangement and the unfinished bottle of cognac. Onlookers gathered annually in hopes of glimpsing the elusive Toaster, who did not seek publicity, and was rarely seen or photographed.

According to eyewitness reports and notes accompanying offerings in later years, the original Toaster visited the tomb from sometime in the 1930s (though no report appeared in

print

until 1950) until his death in 1998, after which the tradition was passed to "a son". Controversial statements were made in some notes left by the post-1998 Toaster, and in 2006 an unsuccessful attempt was made by several onlookers to detain and identify him. In 2010 there was no visit by the Toaster, nor did he appear in 2011 or 2012, triggering speculation that the 75-year tradition had ended.