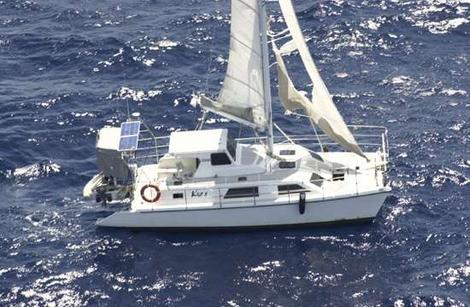 In 2007, the 12-metre catamaran, the Kaz II, was discovered unmanned off the coast of Queensland, northeast Australia in April. The yacht, which had left Airlie Beach on Sunday 15 April, was spotted about 80 nautical miles (150 km) off Townsville, near the outer Great Barrier Reef on the following Wednesday. When boarded on Friday, the engine was running, a laptop was running, the radio and GPS were working and a meal was set to eat, but the three-man crew were not on board. All the sails were up but one was badly

shredded

, while three

life jackets

and survival equipment, including an emergency beacon, were found on board. Investigators recovered a video recording that showed footage taken by the crew shortly before their disappearance. The footage showed nothing abnormal.

The Katz II was (or is) a private yacht whose 2007 crew met with a similar end to the crew of the Mary Celeste. That is to say, no one is quite sure what happened to them. The story is slightly less suspicious than the story of the Mary Celeste, given that there were only three men on board the Katz II. Nevertheless, the lack of clues, disappearance of the crew and discover the boat are very much the same, save the more modern equipment on board the Katz II.

The Katz II was found adrift near the Great Barrier Reef on April 18, 2007. The Katz and three friends -- all experienced -- left Airlie Beach only three days earlier. Upon boarding the vessel, authorities found food set out on

the table

, equipment still turned on, the yacht's entire store of life jackets, the engine running and a laptop still turned on. There was even a

coffee mug

still on deck. The only thing that was not there were people and there was no sign of them.

A rescue effort went underway immediately. However, it appeared, judging by a video made by the men and other clues, that the men had gone missing the very evening after they left. That meant nearly three days in the open ocean without life vests, if they had fallen overboard. That meant three days lead, if they met with foul play. They were never found.
Katz II - Unexplained Mystery of Ghost Yacht