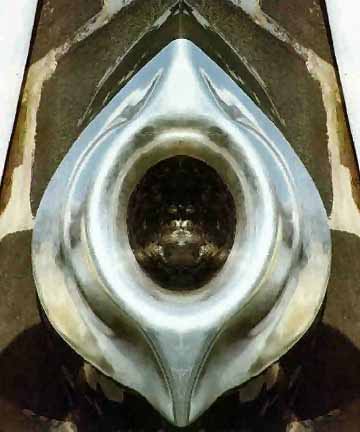 The Black Stone is a Muslim relic, which according to Islamic

tradition

dates back to the time of Adam and Eve.

Historical

research claims that the Black Stone marked the Kaaba as a place of worship during pre-Islamic pagan times. It is the eastern cornerstone of the Kaaba, the ancient stone building towards which Muslims pray, in the center of the Grand Mosque in Mecca, Saudi Arabia. The Stone is a dark rock, polished smooth by the hands of millions of pilgrims, that has been broken into a

number

of fragments cemented into a silver frame in the side of the Kaaba. Although it has often been described as a meteorite, this hypothesis is still under consideration.

Muslim pilgrims circle the Kaaba as part of the Tawaf ritual of the Hajj. Many of them try, if possible, to stop and kiss the Black Stone, emulating the kiss that Islamic tradition records that it received from the Islamic Prophet Muhammad. If they cannot reach it, they point to it on each of their seven circuits around the Kaaba.

Physical description

The Black Stone, surrounded by its silver frame and the black cloth kiswah on the Kaaba in Mecca.

The Black Stone consists of a number of fragments held together by a silver frame, which is fastened by silver nails to the Stone. Some of the smaller fragments have been cemented together to form the seven or eight fragments visible today. The Stone's exposed face measures about 20 centimetres (7.9 in) by 16 centimetres (6.3 in). Its original size is unclear; its recorded dimensions have changed considerably over time, as the stone has been remodelled. In the 10th century, an observer described it as being one cubit (slightly over 1.5 feet (0.46 m) long). By the early 17th century, it was recorded as measuring 1.5 yards (1.4 m) by 1.33 yards (1.22 m). According to

Ali Bey

in the 18th century, it was 42 inches (110 cm) high, and

Muhammad Ali

reported it as being 2.5 feet (0.76 m) long by 1.5 feet (0.46 m) wide.

The Black Stone was first described in Western literature in the 19th and early 20th centuries by European travelers in Arabia, who visited the Kaaba in the guise of pilgrims. Swiss traveler Johann Ludwig Burckhardt visited Mecca in 1814, and provided a detailed description in his 1829

book Travels

in Arabia:

It is an irregular oval, about seven inches in diameter, with an undulated surface, composed of about a dozen smaller stones of different sizes and shapes, well joined together with a small quantity of cement, and perfectly well smoothed; it looks as if the whole had been broken into as many pieces by a violent blow, and then united again. It is very difficult to determine accurately the quality of this stone which has been worn to its present surface by the millions of touches and kisses it has received. It appeared to me like a lava, containing several small extraneous particles of a whitish and of a yellow substance. Its colour is now a deep reddish brown approaching to black. It is surrounded on all sides by a border composed of a substance which I took to be a close cement of pitch and gravel of a similar, but not quite the same, brownish colour. This border serves to support its detached pieces; it is two or three inches in breadth, and rises a little above

the surface

of the stone. Both the border and the stone itself are encircled by a silver band, broader below than above, and on the two sides, with a considerable swelling below, as if a part of the stone were hidden under it. The lower part of the border is studded with silver nails.
Ka'aba and its Mysterious Black Stone