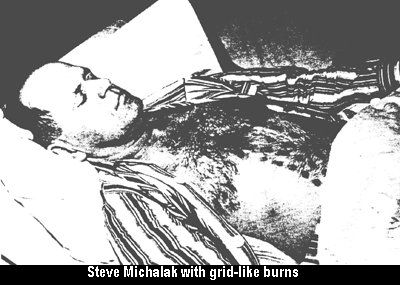 One of the most intriguing cases of serious injury attributed to a UFO experience is that of Stefan Michalak. He returned home from a prospecting expedition with serious ill effects that he claimed were a result of an extraordinary UFO encounter.

The incident occurred on May 20, 1967, in an area near Falcon Lake, Manitoba, Canada, approximately 75 kilometres north of the American border in the rocky edge of the great Canadian Shield. Falcon Lake is a resort town at the southern boundary of Whiteshell Provincial Park. The park is largely uninhabited wilderness, known for various mineral deposits, and several small mines were established in the surrounding region. Stefan Michalak was an amateur geologist and had worked the area many times. Some prospectors had found several quartz veins nearby that were associated with silver deposits, and Michalak had even staked a few claims himself. On May 19, 1967, he traveled from his home in Winnipeg to Falcon Lake, where he spent the night in a motel on the Trans-Canada Highway.

The Encounter

Stefan Michalak left his motel at 5:30 that morning and headed north into the bush. By 9:00 a.m., traveling under a bright, cloudless sky, he had found a quartz vein near a marshy area, close to a small stream. At 11:00 a.m. he had lunch, then went back to his examination of the quartz formation. At 12:15 p.m., with the sun high and clouds gathering in the west, Michalak was startled by the cackling of some geese, who were obviously disturbed by something. He looked up and was surprised to see two cigar-shaped objects with "bumps" on them, an estimated forty-five degrees in altitude, descending and glowing red. As they approached, they appeared disc-shaped.

The furthest of the pair stopped in mid-flight, and the other drew nearer and landed on a large, flat rock which was later determined to be about 160 feet away. The one in the air hovered for a short while, then later departed, changing from red to orange to grey as it flew into the west, where it disappeared behind the clouds. Focusing his attention to the object on the ground, Michalak saw that it, too, was turning from red to grey, until it finally was the colour of "hot stainless steel," surrounded by a golden-hued glow. As he observed the object, he knelt beside a rock where he had been chipping at the quartz. He had been wearing welding goggles to protect his eyes from flying rock fragments. The goggles proved to be very useful, as brilliant light shone from openings in the object, blinding him and creating red afterimages in his eyes.
Read more at Falcon Lake UFO Case