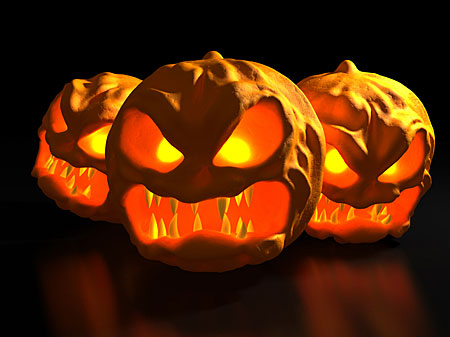 Below you'll find some interesting Halloween facts, traditions and other bits of information relating to the history of Halloween. You can always find a way to use these interesting Halloween facts at your party, for instance in a Halloween quiz.

Behind the name "Halloween", or the "Hallow E'en" as they call it in Ireland, means 'All Hallows Eve', or the night before the 'All Hallows', also called 'All Hallowmas', or 'All Saints', or 'All Souls' Day, observed on November 1.

One story says that on Nov. 1 the disembodied spirits of all those who had died throughout the preceding year would come back in search of living bodies to possess for the next year. It was believed to be their only hope for the afterlife. The Celts believed all laws of space and time were suspended during this time, allowing the spirit world to intermingle with the living.

Naturally, the still living did not want to be possessed. So on the night of October 31, villagers would extinguish the fires in their homes, to make them cold and undesirable. They would then dress up in all manner of ghoulish costumes and noisily paraded around the neighborhood, being as destructive as possible in order to frighten away spirits looking for bodies to possess.

Another one of those interesting Halloween facts has to do with the custom of trick-or-treating. This custom is thought to have originated not with the Irish Celts, but with a ninth-century European custom called "souling". On November 2, All Souls Day, early Christians would walk from village to village begging for "soul cakes," made out of square pieces of bread with currants. The more soul cakes the beggars would receive, the more prayers they would promise to say on behalf of the dead relatives of the donors. At the time, it was believed that the dead remained in limbo for a time after death, and that prayer, even by strangers, could expedite a soul's passage to heaven.

Another assumption: On the evening before Samhain (another name for Halloween), people left food on their doorsteps to keep hungry spirits from entering the house. Festivalgoers started dressing in ghost, witch, and goblin costumes so that wandering spirits would leave them alone. To this day, these are Halloween's most popular costumes.
The Irish used turnips as their "Jack's lanterns" originally. But when the immigrants came to America , they found that pumpkins were far more plentiful than turnips. So the Jack-O-Lantern in America was a hollowed-out pumpkin, lit with an ember.

Growing big pumpkins is a big-time and serious hobby. Top prize money for the biggest giant pumpkin is as much as $25,000 dollars at fall festivals. The current world record for giant pumpkins is 1446 pounds (that's a lot of pumpkin pies!).

More interesting Halloween facts have to do with witches. "Witch" comes from the Saxon word wicca which means 'wise one'. Witches were thought to be wise enough to tell the future.
Read more Halloween Fun Facts and Halloween History