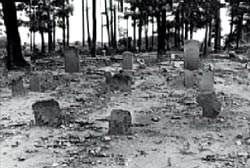 Homes built on top of a cemetery may be cursed
Just outside of Houston, Texas, is a neighborhood filled with upscale homes and manicured lawns. In the early 1980s, Sam and Judith Haney settled in at the far western edge of the development. Sam described it as their dream home:

"When we bought the house in Newport, it was the house that we had always been looking for. So, it was the house that we intended to stay at for a long period of time."


But there was a morbid secret about the Haney's perfect home, one that soon turned their lives into a never-ending nightmare. Sam said it all began when a mysterious old man showed up at their door with an ominous warning:

"This elderly man told me that he had noticed that we were putting a swimming pool in our backyard and that there was something about our backyard that I needed to know about. So I followed him around to my backyard and he pointed at the ground and said that there are some graves right here. And he marked a spot on the ground where they were. And I really didn't know how to react to that. I didn't know if he was just joking. I couldn't understand why anyone would want to joke about something like that."

Using a backhoe, Sam decided to see if the man's alarming claims were true. Sam says it wasn't long before he hit something:

"And at that point, we stopped with the backhoe and we got down into the hole and continued digging by hand. There were pine boards. When we lifted up the first board, we could see an indentation of a skeleton form. It didn't take long to figure out that it was actual human remains."

Sam immediately called the Sheriff and county coroner who conducted an official exhumation. Most of the bones had turned to powder. But 25 fragments were found, some so brittle that they disintegrated when touched.


A second coffin, located alongside the first, hadn't been disturbed. Inside, two wedding rings were discovered on the frail index finger of the exposed skeleton. Judith Haney was mortified by the discovery:

"They handed me the rings and it was sickening to think that I had desecrated somebody's grave."
Wanting desperately to do the right thing, the Haneys decided to find out whose remains were buried in their backyard. The search led them to a longtime resident named Jasper Norton.

Years earlier, Norton had dug several graves in the area. He told the Haneys that their home and a dozen others were built on top of an old African American cemetery called Black Hope. The deceased were mainly former slaves. The last burial was in 1939, and as many as 60 people were interred there in paupers' graves.
Read complete article at
http://theunexplainedmysteries.com/black-hope-curse.html